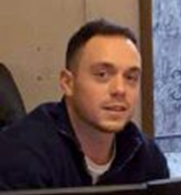 I had the opportunity to visit their office recently. The little store front window has a custom 'Tree of Life' glass and iron table with the forbidden apple hanging from the tree, right in the front window—very creative. When walking in off the street, the small store front is deceptive. Walk through the doors and continue back to the huge shop, trailers for the design and project management team, and an extensive yard for materials.

Peter G is the fourth generation. Back in the 1930's or so, the Gasparrini family was well known and respected for their beautiful ironwork as blacksmiths. As his brother-in-law Peter J Carriero joined the family, these two men laid the groundwork with their craftsmanship, reputation, and family legacies, heavily invested in the Greenwich community. Their artistry was expressed in chandeliers, lamps, and beautiful railings, to name a few examples.
As a union contractor, they have some pretty amazing special projects including the New Yankee Stadium, the National September 11 Memorial, Revson Fountain at the Lincoln Center for the Arts, the New York Presbyterian Hospital, and many more.
They attribute their growth to an amazing team, from the shop to the field, the Project Managers to the Estimators. Even with these huge projects, they continue to create beautiful custom pieces, and some you can buy right from that store front window.
As they've grown over the years, they also brought in Sage 100 Contractor. With Syscon's help they have the special reports and custom programs to meet the needs of the office as well as running the field. During this recent visit, I worked with the accounting team, some of whom are new to the company and the software. We had fun, worked hard, and they were gracious hosts while I was with them. Wishing Peter G and his family continued success! – CMW