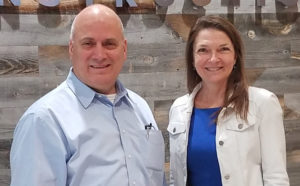 Donald Wilson grew up with construction– his grandfather, dad, uncle, and brother all worked in mechanical contracting. Donald spent his college summers doing field work for a mechanical contractor, which helped him realize he wanted to work in construction, but as an accountant. Donald brought over 30 years of experience to Corenic Construction Group.
He helped Corenic with two major recent challenges: create and implementing accounting processes for a remote environment and migrating from using QuickBooks to Sage 100 Contractor. Virtual meetings and remote work don't kindly lend themselves to physical construction and site visits, OperationsManager James Morrow said. Technology and increased virtual meetings helped, James said. Donald's prior experience managing accounting across different states and time zones helped him develop paperless invoicing and approval processes in time to keep Corenic functioning amidst the lockdown order during the pandemic.
As the Director of Accounting, Donald had high praise for using Sage 100 Contractor. QuickBooks is great for transactional accounting, but job costing is "nonexistent", Donald said. He now uses Sage to accurately calculate actual construction job costs. Prior to the Sage transition, he exported data into Excel and manipulated it to calculate job costs.
Corenic wouldn't have made it as far as they did without Syscon's help. Cathy held regular training sessions where she taught Donald how to use Sage and showed him some tricks. Chris helped customize their Sage reporting, so they are able to get the financial data that they need to keep Corenic running smoothly.
Corenic has helped keep construction projects running smoothly for their clients and vendors since the 2008 financial crisis. Corenic helped fill a void in the market, which was caused by many companies and building owners altering their construction project plans in the wake of that financial crisis. There was still a need for construction work, so Corenic founder Brunson Cooper was able to step in and meet that need.
Fast Facts
Full Name: Corenic Construction Group
Location: Washington D.C.
Specialty: Commercial general contractor
Founded: 2009
Professional Affiliations: Associated Builders and Contractors, Washington Building Congress, District of Columbia Building Industry Association; Founder/Managing Director Brunson Cooper is on several boards, including Board of Directors for Prince George's County, MD
Other: Has Green Construction offerings