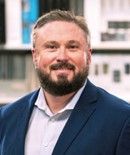 In a revealing dialogue with Sycon, owner Jon Gore opens up about Brawley's remarkable journey over the last 30 years. From a childhood fascination with building to a career in construction management, Gore's path was shaped by his passion for the "people side" of the industry.

The company's roots were originally in FF&E, Interior Design and light renovation, which laid the foundation for its legacy of providing comfort to not only the enlisted personnel and families, but much more. Today they are a full-service General Contractor for both federal and commercial customers, with the ability to design and build facilities and infrastructure of any kind. Collaborative efforts with architects, owners, contractors, and team members, in addition to their in-house capabilities, have been central to their achievements.
Adapting to COVID-19, rapid expansion led to "growing pains." Prioritizing strategic personnel placement and an expanded bonding program became essential.
He extends gratitude to Syscon for their role in integrating Microsoft SharePoint and facilitating the journey toward CMMC certification. Embracing the power of teamwork, he confronts daily challenges with a united front.
His narrative embodies the principles of relationships, resilience, and future preparedness. Guiding Brawley Construction, he continues to shape structures and craft a legacy that will endure. —RB