Posisi kepala kita wajib diupayakan pada posisi yang menjajaki ceruk tulang balik yang tercipta dari pungggung yang membengkok. Pemikiran pula wajib senantiasa ditunjukan ke jalan yang agen sbobet terletak di depan kita serta fokuskan diri pada jalan. Tetapi tidak lalu berarti kepala wajib kaku sebab tulang leher butuh diusahakan buat senantiasa tenang.
Posisi punggung pula berarti buat terbuat setimpal dengan kecekatan yang kita ambil. Tidak cuma itu, posisi punggung pula butuh setimpal dengan arah yang kita lalui. Dikala tanjakan ataupun agen bola dalam kecekatan besar, yakinkan buat punggung dalam posisi menunduk, sedangkan kala dikala pada arah menyusut, punggung dapat ditegakkan kembali sebab ini lebih bagus.
Teknologi sudah mempengaruhi warga serta sekelilingnya dalam banyak metode. Di banyak golongan warga, teknologi sudah menolong bandar togel terpercaya membenarkan ekonomi( tercantum ekonomi garis besar era saat ini) serta sudah membolehkan bertambahnya kaumsenggang. Banyak cara teknologi menciptakan produk sambilan yang bukan dikehendaki, yang diucap pencemar, serta menghabiskan pangkal energi alam, mudarat, serta mengganggu Dunia serta lingkungannya.
2021-04-27 Day 47
A New Food Truck. Putting in the miles on US 90.
As I mentioned in previous posts, we get a new food truck to follow us and provide meals with each new state we enter. Florida – our 8th state – was no exception. Today is the first breakfast they served us and it was wonderful pancakes and sausage. This was a real treat and a big hit with the riders!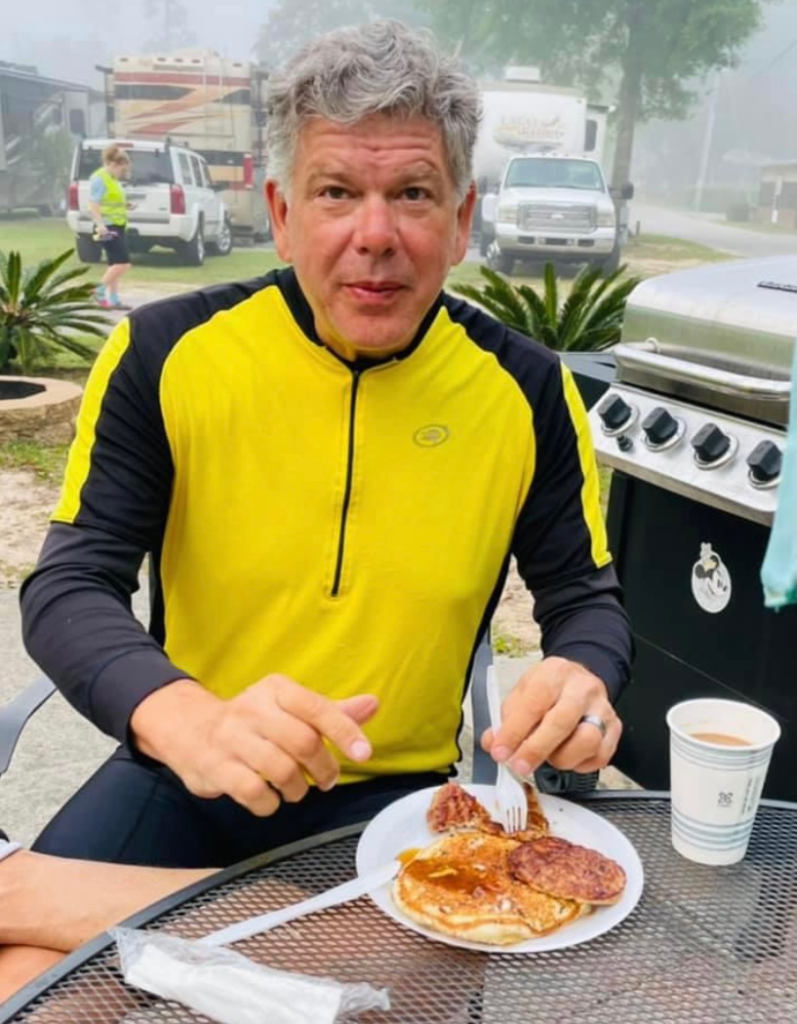 Today is all about putting in the miles.   We are on our favorite (not) road since Texas, US 90.  Today's ride is about 54 miles and I believe all but 3 are on US 90.   At least the road surface is better than it was in Texas!   And, the Florida drivers have been very courteous!
Here we are at the beginning of the ride:
And here we are with just a few miles to go:
But, finally – a few miles of a variation!
Total Mileage to date:  2,507