Posisi kepala kita wajib diupayakan pada posisi yang menjajaki ceruk tulang balik yang tercipta dari pungggung yang membengkok. Pemikiran pula wajib senantiasa ditunjukan ke jalan yang agen sbobet terletak di depan kita serta fokuskan diri pada jalan. Tetapi tidak lalu berarti kepala wajib kaku sebab tulang leher butuh diusahakan buat senantiasa tenang.
Posisi punggung pula berarti buat terbuat setimpal dengan kecekatan yang kita ambil. Tidak cuma itu, posisi punggung pula butuh setimpal dengan arah yang kita lalui. Dikala tanjakan ataupun agen bola dalam kecekatan besar, yakinkan buat punggung dalam posisi menunduk, sedangkan kala dikala pada arah menyusut, punggung dapat ditegakkan kembali sebab ini lebih bagus.
Teknologi sudah mempengaruhi warga serta sekelilingnya dalam banyak metode. Di banyak golongan warga, teknologi sudah menolong bandar togel terpercaya membenarkan ekonomi( tercantum ekonomi garis besar era saat ini) serta sudah membolehkan bertambahnya kaumsenggang. Banyak cara teknologi menciptakan produk sambilan yang bukan dikehendaki, yang diucap pencemar, serta menghabiskan pangkal energi alam, mudarat, serta mengganggu Dunia serta lingkungannya.
2021-04-14 Day 34
Back on the bike – at least for part of the day!
After waiting exactly three days (36 hours) as per the doctor's orders, I was ready to ride again. This put me on my bike at noon today, so I started a little beyond the middle of the ride from the second SAG/Check-in stop.
One of our strongest riders, Mark O., generously volunteered to stay with me while I road as I didn't really have a good idea of how healthy I was at this point. The video here has poor sound since we were going downhill and a pretty good pace – so the wind noise is significant. But Mark is in front of me as we head out of the SAG 2 stop.
One note about the SAG stops. These are mandatory stops inserted at various points in the day's ride that serve several purposes. First, it tells the tour organizer where all the riders are during the ride. If someone doesn't check-in, they go looking for them in case there is a problem. Secondly, the riders refill water and perhaps have some food. Water is critical, particularly on hot days, so the stops are essential. Finally, it is a chance for the riders to rest a few minutes and maybe see something interesting in the local area.
It is always fun when the locals do something a little different. Here, Westmont Ranch has a ten foot cow at their ranch entrance.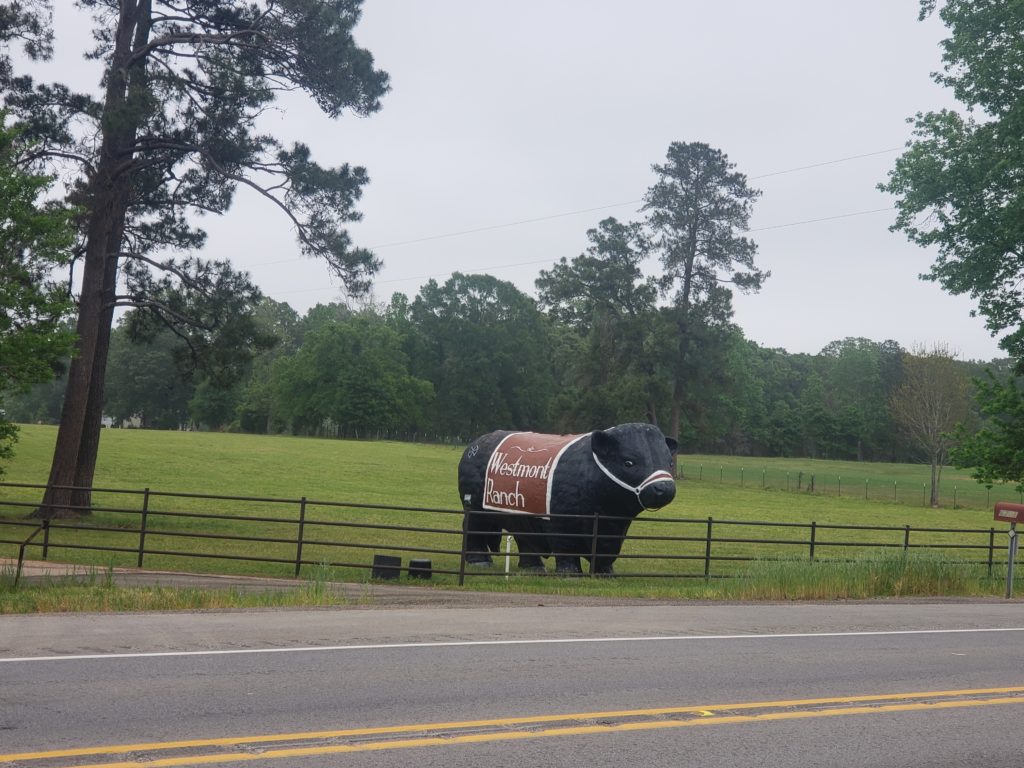 Some more country road riding, which I love.
It was a short day for me, but I felt good and ready for another one.
Today's Ride Statistics:
Target 89.1 miles; LAW ride 38.4