2021-04-04 Day 24
Mechanical Mishap, Rain, Wind
Easter! We started out the morning with a 6:45am reading of John 20 1:18 and prayer requests and blessings on this important day. There are some wonderful, dedicated Christians on this trip.
It is hard not to whine about today's ride. It was an 87 mile ride, but I missed about 15 miles of it. A little preliminary information: yesterday, at the meal at the end of the day, my bike was accidentally knocked over from where it was standing and the person that knocked it over kind of landed on it. I visually inspected for damage and rode it with no problem to the campground. But was not the end of the story.
Many riders were worried about today's ride. We had been pounded by head winds for the past three days and today's forecast was bleak. Rain, strong headwinds. The mood was a bit somber as we prepared to leave with coffee and breakfast.
Six miles into the ride we started the first climb and as I shifted into a climbing gear, I heard a bad noise on my rear wheel. I immediately stopped and discovered that the derailleur (the device that shifts the chain to higher and lower gears) was bent and twisted so that it hit the spokes of the wheel when in a low gear. This was well beyond any roadside fix, so I called for a SAG. 
My bike and I were driven to the first SAG stop at 20 miles out and the mechanic, Tom, took a look at it. Fortunately, he had the tools to straighten the derailleur hanger and also was able to remove most of the twist from the damage, and I was back on the road – but I did miss the 15 best miles of the ride – the part that had little wind.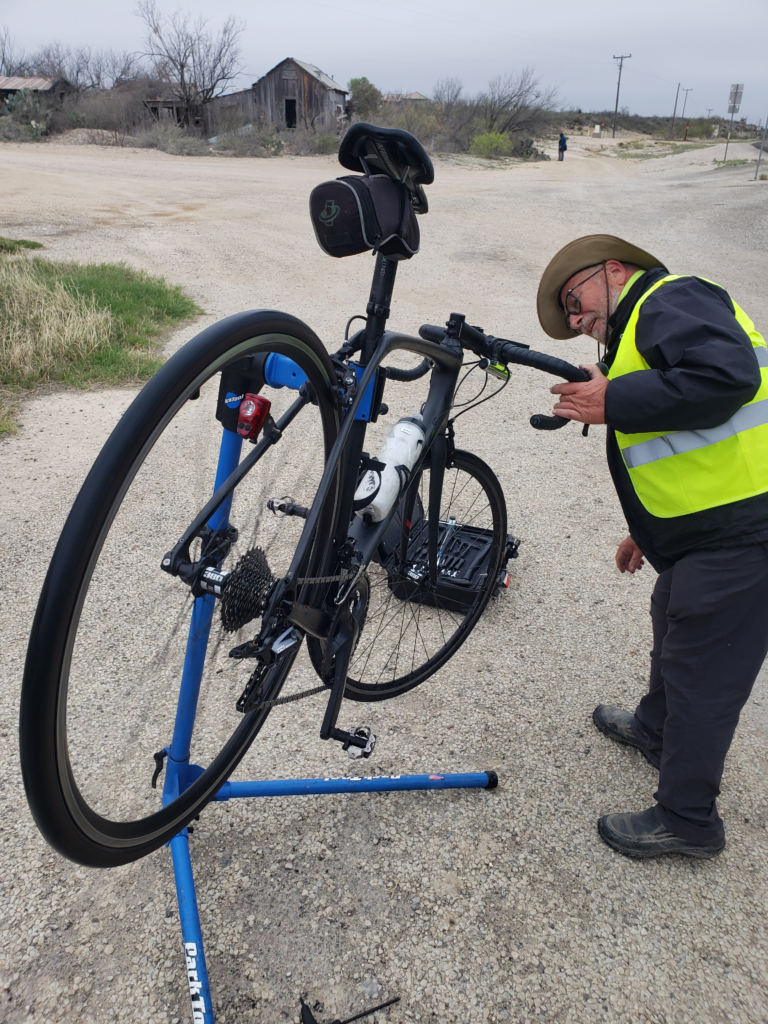 Then we ground out 70 more miles one mile at a time against a hard wind the entire day! I was so tired, I didn't even really take many pictures as I was just concentrating on the next pedal stroke.
One bright spot was near the end – in the last 10 miles – we crossed the Pecos river and had a nice moment to get some pictures. From left to right is Texas Al, Larry, Beth, and Adrian.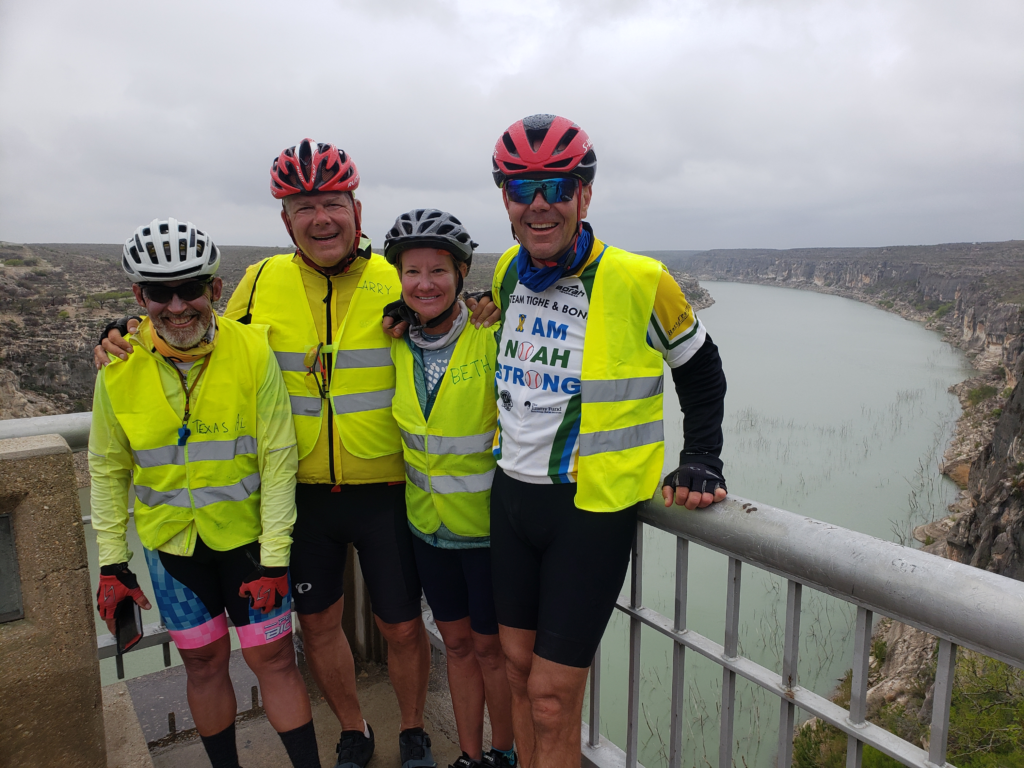 We all made it eventually, and we suspended the rider meeting until the next morning so we could all get some rest. I slept 10 hours straight.
Today's Ride Statistics: