Posisi kepala kita wajib diupayakan pada posisi yang menjajaki ceruk tulang balik yang tercipta dari pungggung yang membengkok. Pemikiran pula wajib senantiasa ditunjukan ke jalan yang agen sbobet terletak di depan kita serta fokuskan diri pada jalan. Tetapi tidak lalu berarti kepala wajib kaku sebab tulang leher butuh diusahakan buat senantiasa tenang.
Posisi punggung pula berarti buat terbuat setimpal dengan kecekatan yang kita ambil. Tidak cuma itu, posisi punggung pula butuh setimpal dengan arah yang kita lalui. Dikala tanjakan ataupun agen bola dalam kecekatan besar, yakinkan buat punggung dalam posisi menunduk, sedangkan kala dikala pada arah menyusut, punggung dapat ditegakkan kembali sebab ini lebih bagus.
Teknologi sudah mempengaruhi warga serta sekelilingnya dalam banyak metode. Di banyak golongan warga, teknologi sudah menolong bandar togel terpercaya membenarkan ekonomi( tercantum ekonomi garis besar era saat ini) serta sudah membolehkan bertambahnya kaumsenggang. Banyak cara teknologi menciptakan produk sambilan yang bukan dikehendaki, yang diucap pencemar, serta menghabiskan pangkal energi alam, mudarat, serta mengganggu Dunia serta lingkungannya.
2021-03-27 Day 16
Rest Day!
Our rest day is in Columbus, NM today.  It is a small state park with a lot of history.  Specifically, it is the location of the first aero squadron in the United States as well as a location where Pancho Villa invaded the United States and killed some civilians and military personnel. A member of the First Aero Squadron Foundation, Ric, came and gave us a wonderful presentation about the history of the squadron. He lived through much of it being a child in the 1930's and a civilian and military pilot.  
The next video gives a pretty good picture of life on one of our camping sites.
The small tent in the middle is a portable cold shower that we use when there are no local shower facilities available. There were showers at this campground, but they were closed due to Covid-19.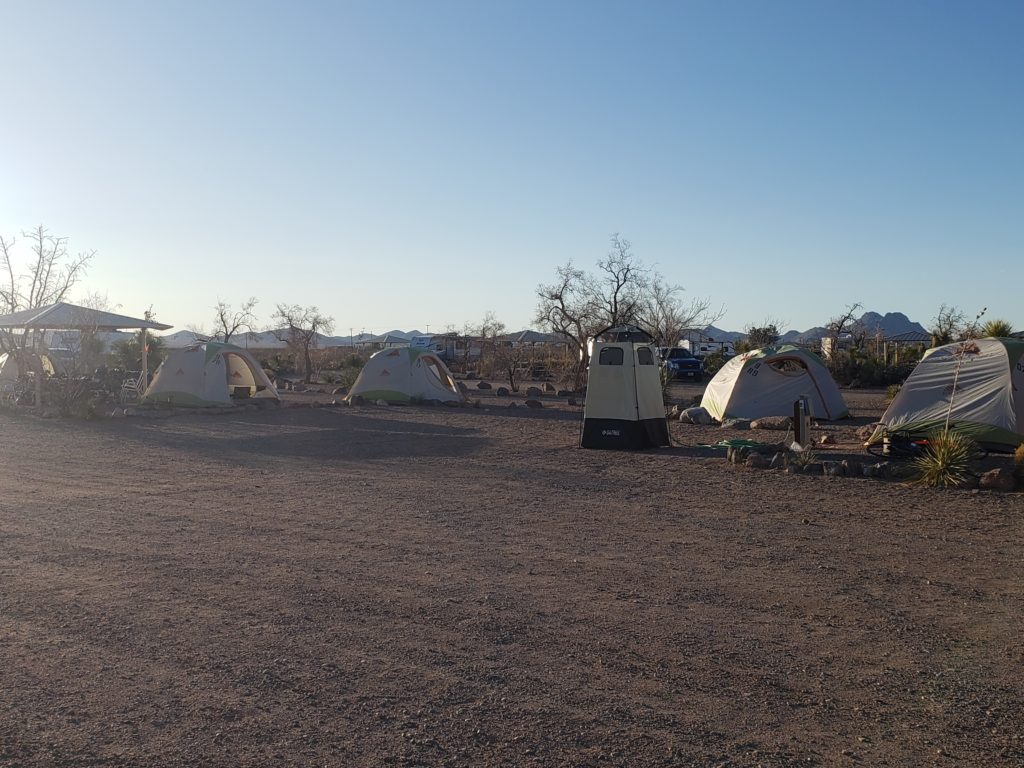 Most of the group went across the border to an apparently famous/infamous store they called the "Pink Store." I took the time to just decompress and get caught up on a few things.