2021-03-18 Day 7
"Grunt" riding.
Not much to see on this segment of the ride. It was essentially on one road with a solid 10 MPH headwind most of the way. Fortunately there was no significant climbing. The biggest challenge was some pretty rough roads along the way.
Essentially, we followed I-8 all the way from Dateland to Gila Bend either riding on the Old Highway 80 highway or for portions of the ride where I-8 replaces Old 80.
This was a pretty typical day in terms of the routine, which we are now all settling into. In Dateland, we stayed in tents at an RV Park. At 6 a.m., the lights go on and we get up to pack up all our sleeping equipment, get dressed for the ride – and if we are lucky – find some coffee somewhere.
At 7 a.m. is breakfast from a food truck that follows us. We have a different food truck join us for different segments of the trip. Since we left California and came to Arizona, the food truck is Fork and Fire out of the Phoenix area. The food is hot and plentiful.
By 7:30 a.m., the first riders are leaving and by 8 or so, everyone is on the road riding toward the day's destination.
During the ride, we will stop for photo ops or other things that catch our interest (not much of that today) and a couple of SAG stops where the staff has snacks and water/juice for the riders.
When we reach the destination, we are very glad to be there! We were particularly happy to reach Gila Bend, as we had a pretty good head-wind for the entire ride.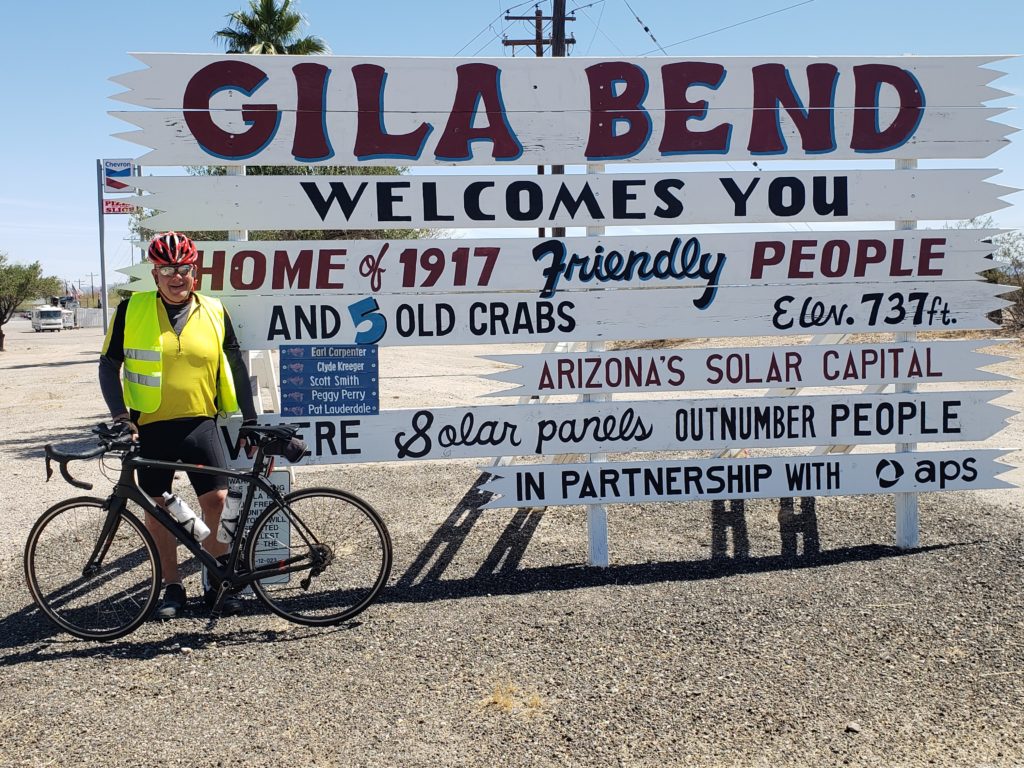 We park our bikes, pull all the various equipment and carry-alongs from the bike and look for a place to get a shower – if there is one available.
The food truck provides a snack and we fellowship for an hour or so while we wait for dinner. Dinner is at 6 p.m. 7 p.m. marks the start of the riders meeting to discuss the day's ride and the next day's route. 
After that, most riders get ready for bed to do it all again!